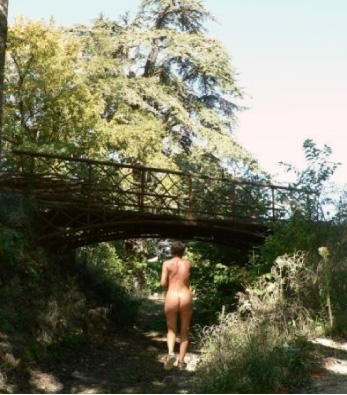 Het zuid gericht kasteel met zijn 15 hectaren grond is volledig toegelegd op een naturistische beleving. Dit omvat :
Het hoofdgebouw


5 gîtes / appartementen waarvan elk 2 tot 3 kamers met 4 tot 6 slaapplaatsen bevat
1 verwarmd zwembad gedurende het zomer seizoen,
1 wellness met jacuzzi, sauna, rustruimte
1 activiteiten ruimte uitgerust met een tafelvoetbal en een biljart
1 massageruimte,
Voor het gebouw bevindt zich de barbecue, zitbanken en tafels, kinderspeeltuigen, petanque terrein, .......

De Camping

35 grote plaatsen van 100 tot 200 m², gedeeltelijk in de schaduw, of op zonnige terrassen,
1 zwembad omgeven met een houten terras en een zonneweide,
Sanitaire,
meerdere kilometer wandelpaden op het terrein
De gites kunnen het hele jaar afgehuurd worden.
---
De vele activiteiten
Het naturistisch domein Le pont d'Adèle bevindt zich 7000 ha groot bos dat geklasseerd werd door Natura 2000 op het plateau van Chambarans.
We bevinden ons op 12 km van de uitlopers van de Vercors en op 55 km van de dichtstbijzijnde skistations.
Gemakkelijk te ontdekken of te beleven:
Canyoning,
Wandelen,
Parapente,
VTT,
Kayak,
...
---
Prachtige locaties in de buurt

Ontdek tijdens jullie verblijf op Pont d'Adèle ...
De grotten van Choranche
Le Palais Idéal du Facteur Cheval
Het labyrint van Hauterive
De versteende tuinen, (Les jardins des fontaines pétrifiantes)
Boottocht op de Isère,
De grotten van Thais
Pont en Royans en zijn bijzondere huizen
Saint Antoine l'Abbaye
...